Resources
Community Support Resources
SUPPORT & SECURITY, PROTECTION TRUST (S&S,PT)
Sport & Spine Physical Therapy remains open during this difficult time to provide care for our patients.
WE WANT TO HELP! In a time of being home-bound we want to provide you with FREE exercise programs that you can do in the convenience of your own home.
These exercises include pics and videos with clear instructions and have been developed by physical therapists in our clinic.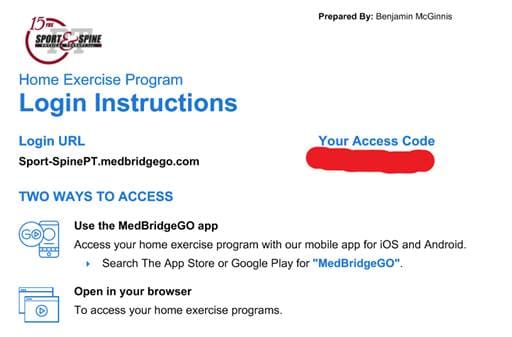 Please follow the instructions in the image above to get the app that will run this FREE program.
You will be asked to type in an access code, choose one of the codes below that is best for you!
Please do not work through any pain, chest pain, or if you have shortness of breath, STOP and call your doctor or 911.
If you are not sure if an exercise(s) is/are indicated for you please call us at 603-431-9700.
We will all get through this together! Stay well!
Low fitness level bed exercises: 8P2MNAE6
Low fitness level chair exercises: XFB4HCMZ
Moderate level fitness exercises: ZHFBN3X6
High level fitness exercises: JAFYM6DQ
Order Equipment Online
EXERCISE EQUIPMENT DELIVERED DIRECTLY TO YOUR HOME.
Telehealth Services
SPORT AND SPINE IS NOW OFFERING TELEHEALTH SERVICES!
Telehealth is now available to Sport & Spine Physical Therapy patients!
What is Telehealth you ask?
Telehealth is "HIPPA Compliant and secure FaceTime" with your PT that you access through your laptop, desktop computer, smartphone, or tablet.
Most insurance companies are now paying for this. In order to take advantage of Telehealth with us, you must be an established patient with our practice, At this time our understanding is that in order to receive telehealth you must be an established patient in our clinic, however, some insurance companies are changing the rules as we speak.
We are here for you and would be happy to jump on a telehealth call with any NEW clients and do a FREE consultation. Call our office to inquire today!
Both of these options are available to you while you sit at home. Call us today to set up your first appt. 603-431-9700.