Services
ALTER-G: ANTI-GRAVITY TREADMILL
THE ALTER-G®: ANTI-GRAVITY TREADMILL
The first and only AlterG®Anti-Gravity Treadmill®in New Hampshire!
This state-of-the-art high-tech treadmill is revolutionizing fitness by allowing you to run or walk with reduced impact. Through patented NASA technology, the anti-gravity treadmill provides up to 80% body weight support while reducing stress and strain on your body. The benefits of the AlterG include the ability to control gravity, therefore reducing your body weight as you stand, balance, walk or run.
While on The AlterG® Anti-Gravity Treadmill® you will be able to:
Run without discomfort or pain
Burn more calories by going farther or faster than you normally can
Train through injuries
Feel the joy of running without the impact on your joints
Call Now or Request an Appointment!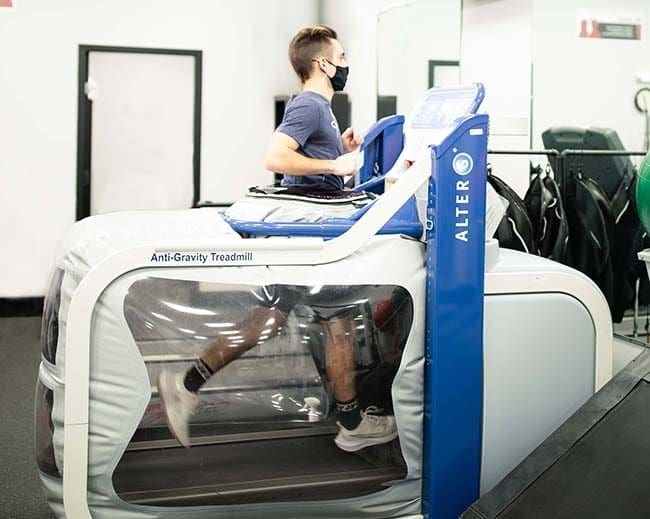 The AlterG® Anti-Gravity Treadmill® air chamber inflates and uses air pressure to support your lower body. You will be able to walk or run at anywhere between 20% and 100% of your body weight. Using an electronic panel you select the appropriate amount of support at precise 1% increments or until movement becomes pain-free. Because AlterG® Anti-Gravity Treadmill® uses air pressure for support you can work on your natural gait or try a new gait such as improving more forefoot running.
Sport & Spine Physical Therapy is excited to offer this unique rehabilitation tool to our patients and referring physicians. We're also making the AlterG treadmill available to the local community whether you are trying to lose weight or are a competitive athlete. Book an appointment online or call our office (603.431.9700) to reserve time on AlterG® Anti-Gravity Treadmill®.
For Athletic Conditioning
Not only can AlterG® Anti-Gravity Treadmill® help injured athletes preserve fitness levels, the AlterG® Anti-Gravity Treadmill® can also supplement training by enabling competitive and recreational athletes the ability to increase training volume and speed without increasing the risk of stress-related injury. By reducing the impact of gravity, and thereby reducing the athlete's effective weight, the AlterG® Anti-Gravity Treadmill® allows athletes to train longer, run faster, and enhance cardiovascular conditioning.
Who else will benefit from the use of the AlterG® Anti-Gravity Treadmill®?
Anyone recovering from a hip knee or foot/ ankle injury
Quicker rehab following surgery to the back, hip, knee, or foot and ankle
Weight loss management with immediate reduction of weight on the joints and muscles of your legs
Parkinson's Disease allowing the ability to walk in a fall safe environment
To support a walking program that is too painful with full gravity
Take pressure off your muscles and joints while never missing a training session because of pain
The experience or water without getting wet or putting on a bathing suit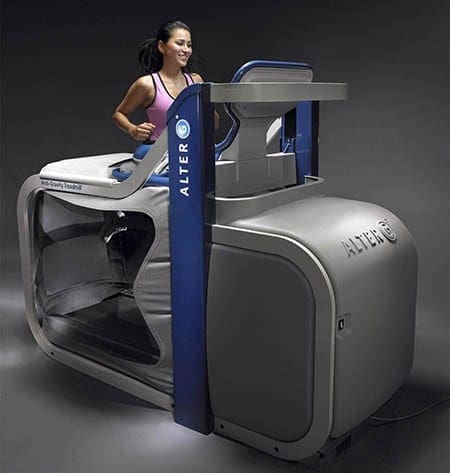 The AlterG® Anti-Gravity Treadmill® is chosen by sports medicine experts, top athletes, and trainers as the best low-impact running or walking training tool. The anti-gravity treadmill is a new way to improve your fitness, lose weight, and train smarter.
Whatever your wellness or fitness goals are The AlterG® Anti-Gravity Treadmill® can help you achieve them!
Want to learn more about the AlterG® Anti-Gravity Treadmill®  and what it can do for you? Check out Resources, Videos, and more at Alterg.com.
Note: All AlterG sessions must be scheduled to ensure availability.
You can have access to The AlterG® Anti-Gravity Treadmill® in two different ways.
1. You can use your insurance as you would for physical therapy, set up an initial examination, and if you and your therapist agree that your diagnosis and plan of care indicates the use of The AlterG® Anti-Gravity Treadmill® then this will be covered under your insurance plan and this will be billed as a physical therapy visit. The AlterG® Anti-Gravity Treadmill® will be used during your scheduled supervised physical therapy visit. These visits with include appropriate co-pay, deductible, and may require a physician referral. If you have questions please contact our helpful staff.
2.You may rent time on the AlterG® Anti-Gravity Treadmill® whether you are an existing patient or not, at the following rates.
The AlterG® Anti-Gravity Treadmill® can be rented at the following price:
$25 for one 30 minute block of time.
Multi-use punch cards
$125 for 300 minutes (Ten 30 min sessions, $12.50 per session)
$200 for 600 minutes (Twenty 30 min sessions, $10 per session)
*Note: Multi-use punch cards are good for six months. You can schedule up to 1 hr per day, and up to three hours or six 30 min sessions per week.
How to Schedule an Appointment
You may rent online via our website and book a time on your own (non-insurance payment method scheduling only). You may also call our office to book a time. All sessions need to be paid for in advance. Single sessions can be paid for when you schedule your time. Please call our office for the multi-use options.
Note: You must come 15 min early to get changed into the special shorts. You must be on time to be able to utilize your full scheduled training time. On most occasions, each time slot will be booked, and times of use will be enforced.
You will be required to wear a special pair of shorts while using The AlterG® Anti-Gravity Treadmill®. We provide 8 sizes of shorts from XS to 4 XL. If you plan to use the AlterG Treadmill often then we strongly advise that you purchase your own shorts through The AlterG® Anti-Gravity Treadmill® website Alterg.com. The shorts are $75 per pair and there is a fit guide on the website.